[wpgmza id="14″]
This American River access point is a popular take-out spot for rafters, canoeists and kayakers. Fishing is popular here, though swimming and wading are also popular, they should be done with great care in this area. A small ramp makes launching and take-out easy.
How to Get There
From U.S. Highway 50, take the Watt Avenue North exit. Stay in the right lane and exit at La Riviera Drive. Make a left at the end of the La Riviera ramp, and then make a right into the park's gates.
Watt Avenue Access is conveniently located just off busy Watt Ave. Perhaps you'll catch a glimpse of the mysterious "rock artist" who leaves piles of rocks in decorative patterns that can be seen from the street above. Or maybe a tailgate lunch and a raft, canoe or kayak trip is in order. If it's fishing season, find a shady spot beside the river and relax and enjoy this favorite outdoor sport.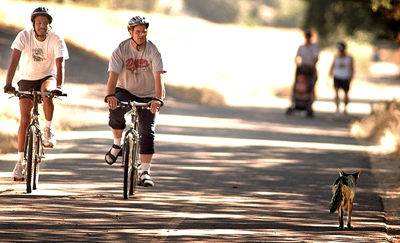 Activities
The Watt Avenue Access is a popular take-out spot for rafters, canoeists and kayakers. Leave one car upstream, then another at the other end of your expedition at Watt Avenue. A small ramp makes launching and take-out easy.
Fishing is popular here due to the range of shallow and deep water.
Swimming and wading are also popular, but should be done with great care in this area. Swimmers enter the river at their own risk