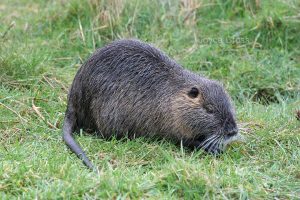 The California Department of Fish and Wildlife (CDFW) has become aware of a population of invasive nutria (Myocastor coypus) reproducing within the San Joaquin Valley. Given the severity of potential impacts and the impacts realized in other infested states, CDFW believes early intervention actions could be successful in eradicating nutria from the area and is asking the public's help in looking for and reporting nutria sightings in order to determine the extent of the infestation.
To date, nutria have been found in wetlands, rivers, canals and other freshwater habitat in Merced, Fresno and Stanislaus counties. If allowed to establish, nutria will severely impact California's resources, causing the loss of wetlands, severe soil erosion, damage to agricultural crops and levees and reduced stability of banks, dikes and roadbeds, as they have done in Louisiana, Chesapeake Bay and the Pacific Northwest. Nutria also degrade water quality and contaminate drinking supplies with parasites and diseases transmissible to humans, livestock and pets.
Native to South America, nutria are large, semi-aquatic rodents that reach up to 2.5 feet in body length, 12-inch tail length and 20 pounds in weight. Nutria strongly resemble native beaver and muskrat, but are distinguished by their round, sparsely haired tails and white whiskers (see CDFW's Nutria Identification Guide). Both nutria and muskrat often have white muzzles, but muskrats have dark whiskers, nearly triangular (laterally compressed) tails and reach a maximum size of five pounds. Beavers have wide, flattened tails and dark whiskers and reach up to 60 pounds.
Female nutria are reproductive by six months of age, breed year-round, and can produce three litters in 13 months. Within approximately one year of reaching reproductive maturity, one female nutria can result in more than 200 offspring, which can disperse as far as 50 miles.
Nutria are destructive, wasteful feeders that destroy up to 10 times the vegetation they consume. Signs of presence typically include cut, emergent vegetation (e.g. cattails and bulrushes), with only the base portions eaten and the stems left floating. Nutria construct burrows with entrances typically below the water line, though changing water levels may reveal openings. Similar to other aquatic mammals, nutria often create runs, or paths in and out of the water or between aquatic sites. Nutria tracks have four visible front toes and, on their hind feet, webbing between four of five toes. Tracks are often accompanied by narrow tail drags.
Since March 30, 2017, more than 20 nutria, including males, pregnant females and juveniles, have been documented within private wetlands near Gustine, duck clubs, the Merced River near Cressey, adjacent to the San Joaquin River near Grayson, south of Dos Palos, the San Luis National Wildlife Refuge, and Salt Slough on the San Joaquin River. The full extent of the infestation is not yet known.
A multiagency Nutria Response Team, which includes representatives from CDFW, the California Departments of Food and Agriculture, Parks and Recreation, and Water Resources, the U.S. Department of Agriculture, the U.S. Fish and Wildlife Service and local county agricultural commissioner offices, has convened with the goal of eradicating nutria from the state. The response team is currently preparing an eradication plan, the first stage of which is determining the full extent of the infestation. Assistance from local landowners and the public throughout the Central Valley, Sacramento-San Joaquin Delta and beyond is critical to successfully delineating the population.
Suspected observations or potential signs of nutria should be photographed and immediately reported to CDFW's Invasive Species Program online, by e-mail to invasives@wildlife.ca.gov, or by phone at (866) 440-9530. Observations on state or federal lands should be immediately reported to local agency staff at that land. CDFW has a nutria webpage and a downloadable PDF with photos and detailed descriptions of these rodents, their preferred habitat and the environmental threats they present.