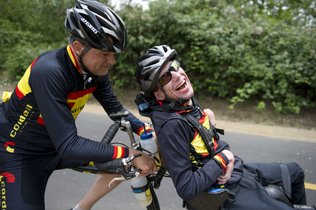 There's nothing to it, really. They get on their specially made bike, with their helmets, sunglasses and matching jerseys, and then they go, riding together mile after mile, the faster and farther the better.
Dad, who is 59, pedals smoothly and efficiently while going 20 mph or more. His 30-year-old son sits in front on a custom-made seat, as if on a throne, smiling as the wind washes over his face.
When he hears his father grunt and groan going up an especially steep hill, he bursts out laughing. When the bike goes fast – they have topped 60 mph going down hills – the happiness races with it.
In 1992, Don Webb gave up competitive distance running and began looking for a new activity that he could do with his son Dustin, who was born with cerebral palsy, has never walked and taps out messages on a specialized computer to "talk" to his family. In the nearly 20 years since, father and son have traveled an estimated 70,000 miles.
It's a different world once the bike gets moving. All of the challenges of everyday life – with eating and getting dressed and figuring out how to express oneself the easiest and best way – are behind them. Ahead is the simplest way of looking at life. You point. You pedal. You breathe. You move. And you just keep going.
On Father's Day, when so many people are celebrating or taking stock, this father and son possibly hold the secret to happiness: Those challenges and heartbreaks and shortcomings everyone else sees are actually opportunities.
No one in the Webb family has ever dwelled on Dustin's physical disabilities or used them as an excuse. Don Webb's two able-bodied daughters, both older than Dustin, have watched their father and their brother take to the bike with a special passion and devotion, embracing the simple joy of a ride.
"It is absolutely a metaphor for life," said oldest daughter Megan Fera, referring to the frequent bike rides. "My dad exhibits so much on his bike that he exhibits in his attitude about life. He just doesn't quit. He's really a hard worker. He doesn't take time to feel sorry for himself about the challenges that come up."
Don and Anne Webb, who have been married 37 years, moved to Sacramento with Dustin two years ago. Don credits his wife with being the primary advocate for their only son, from the time he was born, through the school years and now, well into adulthood.
When Dustin's not on the bike with his father, he listens to audio books. He's a jazz aficionado and major sports fan – following professional bike racing and rooting for the San Francisco Giants and Duke University basketball team.
His sisters, both married with children, also live in Sacramento. Don Webb owns a thriving project management company, Cordell Corp., which oversees the development of large sports, entertainment and cultural facilities. Among the company's successes is Raley Field in West Sacramento. He figures he rides 7,000 miles annually, about half it with Dustin.
Since their arrival in town, father and son have become a familiar presence on the American River bike trail and on roadways throughout the region. To see them for the first time is to be moved in ways powerful and immediate, with the 75-pound Dustin strapped in a harness and often beaming as his dad powers the bike forward.
More at the Sacramento Bee >>>