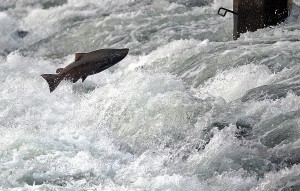 The Nimbus Hatchery Fish Ladder on the American River will open on Monday, Oct. 9 at 10:45 a.m. The ladder is opening unusually early in the season to accommodate the arrival of returning adult fall-run Chinook salmon that hatched in the Coleman National Fish Hatchery (CNFH) in Battle Creek in 2014. Eggs from fall-run Chinook salmon that stray to Nimbus Hatchery will be returned to CNFH to ensure a healthy population of these fish for commercial, recreational and ecological purposes.
"These fish were born at the height of the drought in 2014," said Jay Rowan, California Department of Fish and Wildlife (CDFW) North Central Region Senior Environmental Scientist. "They were trucked to the Delta as fry and released near Rio Vista and the San Pablo Bay as part of a massive effort to improve their chances for survival in a year of poor river conditions."
Returning now as adults, many of these salmon will stray into the American River and not return to their home waters to spawn. The lack of returning fish will make it extremely difficult for the CNFH to reach their goal of producing 12 million fall-run Chinook salmon this fall to release in the waters below Lake Shasta.
CDFW is partnering with the U.S. Fish and Wildlife Service (USFWS), with the support of the Bureau of Reclamation, to collect eggs at Nimbus Fish Hatchery to assist CNFH in meeting its production goals and maintaining a stable salmon population on Battle Creek and the upper Sacramento River.
When the salmon reach Nimbus Hatchery, staff will separate out the fish that have had their adipose fin removed, indicating that they carry a tiny coded wire tag that records their hatchery of origin. Fish identified as being of CNFH origin will be spawned with one another, and their fertilized eggs returned to CNFH. Fish that have not had their adipose fin removed will be spawned and their eggs held until it is determined if they will be needed to meet CNFH production goals.  Fish that are not yet ready to spawn will have a colored tag attached to their dorsal fin and will be returned to the American River, where they will be available to anglers until they either spawn naturally or climb the ladder again and are spawned at the hatchery to meet the Nimbus Fish Hatchery egg collection goals. While anglers are able to catch and keep fish marked with these tags, the tags have no monetary value and do not need to be returned to CDFW.
From >>> cdfgnews.wordpress.com